We
With more than 50 years of experience in polymers and processing high end plastics we make and develop a variety of filaments for Additive Manufacturing industry
Guarantee
Perfect filament results in a perfect print. Before we release a new filament to the market, we handle a thorough develop and testing program.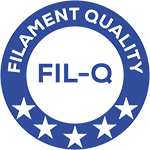 Quality
Our filament has the Fil-Q label, during the complete production process of filament the quality is controlled for more than thirty aspects, also our processing is ISO 9001:2015 certified.
3D Print filament with Fil-Q certification
Many materials, colors, diameters and additives to achieve the required special properties are possible.
Development
Development to require filament with special properties in order to make the right print.
Testing
Tested on both DIY and professional printers in cooperation with printer manufacturers.
Production
Flexible and extended production facility, recently enlarged. All the filament is double checked.
Fulfilment
Fulfilment, ISO 9001 certified organisation. From receiving, production and to shipping orders are handled with care.
Technical
High end plastics also normally in stock.
Medical
Medical approved plastics with certificate.
About tm filament
With over more than fifty years experience in extrusion technics and plastics tm filament daily produces high quality filament from various plastics. Also our experience and knowledge is used for developing special filament for a variety of purposes. A modern and advanced machinery guarantees a high flexibility in our production. This flexibility results not only in our extended variety of filament, also in our volumes of spooling, from ten gram till thirty kilogram.